Check out some of our customer reviews below! Additional reviews are also available on Yelp.com. If you've ordered from us and you'd like to submit a review, please fill out the contact form.

Please note that we now have a new Yelp page starting November 2011.
---

Recently, I traveled down to San Francisco with a friend from Seattle and it was my birthday weekend. My friend is not gluten-free, but I am, and she was stressing out trying to figure out what she could do to surprise me on my birthday. She knows nothing about gf baking and wanted it to be a surprise and luckily, she came across your website. She ordered a beautiful chocolate cake with raspberry filling, a dairy-free buttercream frosting and a bushel of fresh fruit on top. The cake was gorgeous! We cut into it and everyone (I am the only gluten-freer in the group!) devoured it. People went back for seconds and raved! The cake was beautiful, delicious and very safe for me to eat! Thank you! Thank you! You really made my day!
-Michelle H. in Seattle, WA, 5/29/2010
---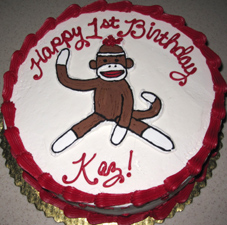 Just wanted to thank you for all the help planning and preparing a wonderful birthday cake for our son. It was as tasty as it was adorable. Everyone thought it looked fantastic and no one suspected that it was vegan. Well done.
-Aysha S. in San Jose, 4/5/2010
---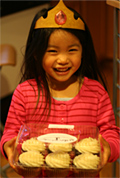 I've been meaning to thank you for the wonderful cupcakes! I'm _TRULY_ impressed. I just posted a picture of the cakes and recommended you to my local friends on Facebook!
-Ayako in San Jose, 3/26/2010
---
This is a very belated review of a wonderful gluten free/dairy free cake that I ordered. Here's the email that I sent to the owners:
Just wanted to write and tell you and Amanda that the cake was AMAZING! Not only did my kids love it but all the other children came up asking for seconds and one Mom that was there has a dairy allergy and when she found out it was a dairy free cake, she jumped to have a piece. Everyone commented on how amazing the frosting was....yum! Thank you again for helping us to make our kids birthday party a very special celebration. We will definitely be ordering from you again and 2 other Moms that have allergies in their family asked for your contact info as well.
-Kat K. in San Jose, 2/16/2010
---
I just wanted to drop you a quick note to thank you for the cake, it was a hit and was absolutely delicious. I have made my fair share of gluten free cakes and your cake simply tastes like the real thing. I will certainly use you guys again for the next party.
-Bill W. in Los Gatos, 12/12/09
---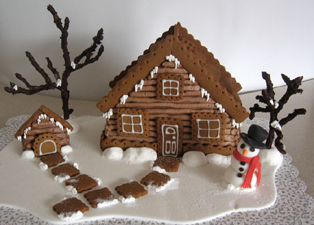 -Aryo P. (age 5) in Milpitas, 12/10/09
---
I ordered a pie and a chocolate cake with raspberry filling for my brother [who lives in Milpitas] for Thanksgiving because he has Celiac Disease. The cake was DELICIOUS, according to my brother and his family! And the bakery people were wonderful to work with! I thank them so much for making my brother's Thanksgiving special and working around his schedule! I will order again and again from them -- and I live in Atlanta!
-Brenda D. in Atlanta GA, 12/4/09
---
We just ordered a vanilla cake with vanilla frosting (12 inch round) for my son's 3rd birthday (he's allergic to peanuts and eggs). It was amazing! Everyone at the party loved the cake. It was moist and really good. The texture is slightly different from cake made with egg (maybe a bit more moist - hard to describe), but very good. I'm sure no one would have know it was a vegan cake if we hadn't told them. Also, the decorations were so cute! I would definitely order from Let Them Eat Cake again. The cake was much, much better than anything I have attempted using egg replacer.
-Andrea F. in San Francisco, 10/21/09
---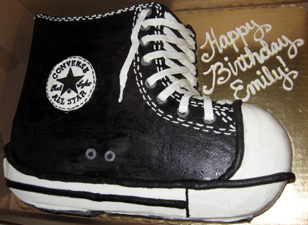 At first I was very skeptical about this place. I had never heard of them before, and if you call them they just answer the phone with a "Hello?" I ordered a custom gluten free, dairy free, nut free, cake that I wanted to look like a Converse Shoe. I had the cake delivered and upon its arrival my jaw hit the floor. The cake looked and tasted amazing! The driver was extremely polite, and first inspected the cake himself to ensure it was still ok. Then he ensured we were happy, and before he left he explained to us the best way to store it and serve it. My wife loved this cake, and made me out to be a Super Hero Husband. I would never hesitate in using this bakery again, and please take a look at the cake for yourself.
http://www.flickr.com/photos/earmerrigan/4024428525/
-Robert S. in San Jose, 10/18/09
---
So I was planning on going to sf to find a bakery that bakes without eggs as I wanted everyone to enjoy cake on my birthday but who knew we had a wonderful place in milpitas. my entire family is mostly veggie and for my dad's birthday I bought a small 8-12inch "test cake" to see what it looked like, what it tasted like, whether everyone would like it, etc... my dad was skeptical as the cakes without eggs or wheat we had in the past tasted like cardboard but this was AWESOME! he loved the cake and so did my carnivore nit picky brother. the cake tasted normal it wasn't like cardboard and didn't have the blatant taste of tofu like in the past. It was so good that I got suspicious after eating it so I did phone Amanda and asked another bunch of questions, which she answered. she had me won me over so the next day I quickly called to order a larger cake for my 21st birthday and I only gave a day's notice but I am eternally grateful Amanda was so cool about it. I am now a life long customer as is the rest of my family.
-Jess G. in Milpitas, 3/19/09
---
After years of searching I found the Patisserie a few weeks ago. Our 9 year old daughter is allergic to wheat and milk and has not had a professional looking cake since her 1st birthday. We are beyond excited about the Patisserie. The vanilla sponge cake was a huge hit! Our daughter literally squealed with joy and could not believe she was able to enjoy the cake with everyone else. Our non-food allergic child could not even tell the difference. The cake was moist, delicious, and decorated beautifully! The customer service is also exceptional as they squeezed in my order during a busy holiday. Thank you so much we will be ordering again!
-Jessica K. in San Jose, 2/16/09
---
My daughter absolutely LOVED the eggless cake we ordered from "Let Them Eat Cake". We thought we would not be able to give our daughter an individual sized cake like all of her egg-eating friends were having. Let Them Eat Cake made a specially sized cake so that she could have one for her 1st birthday. They even offered to deliver the cake! The cake was ready on-time and looked fantastic with the decorations we requested. Our daughter loved the cake so much that she ate the whole thing! Let Them Eat Cake really made her first birthday a day to remember.
-Kerri B. in San Jose, 12/5/08
---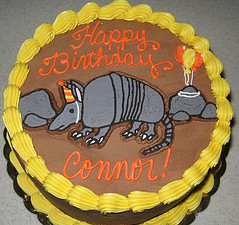 This is the best dairy and egg free cake I've ever eaten! My son is allergic to dairy and egg products so we have had quite a time finding store bought treats for him. I have been searching high and low for a bakery that can supply us with safe, yummy treats that appear as though they come from a store (as opposed to the ones I make at home) and this is THE place! Even my mom (who HATES allergy-safe baked goods) commented on how good the cake and frosting were. My husband said that this wasn't just a good allergy-free cake, it was a really good cake...period! We are so thankful for all these yummy treats!
-Jennifer R. in San Jose, 12/3/08
---
Click here to read more reviews on Yelp!