Let Them Eat Cake!: The Allergy-Friendly Patisserie was started in May 2008 by the husband and wife team of Amanda Macdessi (Executive Pastry Chef) and Jason Kraft (Business Manager). In November 2011, ownership of the business was transitioned to a new executive pastry chef, Marji Prows.

Our philosophy is that desserts for people with food allergies and dietary restrictions should be just as good as traditional desserts...we bet you won't be able to tell the difference.

It can be very difficult to find great-tasting pastries that do not contain eggs, nuts, gluten, and/or dairy products, not to mention the risk of cross-contamination. Amanda, a professionally-trained pastry chef, has over 10 years of experience making allergy-friendly desserts, since Jason has severe food allergies.

As of February 2015 we are in the process of shutting down the business and no new orders will be accepted. We apologize for the inconvenience.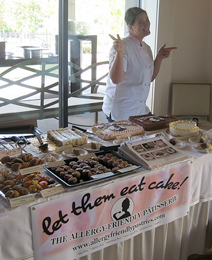 Pastry Chef Amanda Macdessi at the Celiac Forum event in Palo Alto, Oct 2009.