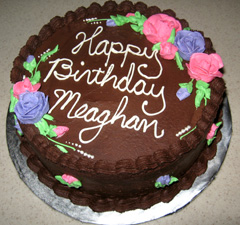 Basic decorations for cakes include flowers or balloons with a short written message.

For a list of products available in different allergy-free combinations, click the Our Products tab above, or one of the links below. We do not use nuts or peanuts in any of our products.



---
© 2008-2015, The Allergy-Friendly Patisserie LLC
http://www.allergyfriendlypastries.com
Welcome to Let Them Eat Cake, serving the San Francisco Bay Area since 2008!
Our mission is to create professionally-made cakes and pastries everyone can enjoy, even those with food allergies or dietary restrictions.
Click the Our Products tab above to see our allergy-friendly cakes and other baked goods, including our vegan and gluten-free/dairy-free product lines. All our products are nut-free and peanut-free.
After 8 years of serving the Bay Area, we are in the process of shutting down our business, and unfortunately no additional orders can be accepted. Thanks go out to all of our customers for the opportunity to serve you.

Best,
-Marji Prows, Executive Pastry Chef
-Jason Kraft, Co-Founder
-Amanda Macdessi, Co-Founder
New Yelp page
(San Jose location):

Old Yelp page
(Milpitas location):